Our former Indonesia President, Bacharuddin Jusuf Habibie had passed away on 11 September 2019 due to heart failure. Aside from his presidency, he was a-well-known aeronautics engineer. During his life, he contributed many things in areas of technology and aeronautics. Reminding us of his life's great achievements, here is an obituary of Bacharuddin Jusuf Habbie, otherwise known as BJ. Habibie.
Early life
Bacharuddin Jusuf Habibie was born in Parepare, South Sulawesi. Young BJ Habibie was a smart kid and love to read books. To pursue his dream, he went to Institut Teknologi Bandung (Bandung Institute of Technology) and then studied abroad at Delft University of Technology. Due to diplomatic reason between Indonesia and The Netherlands, BJ. Habibie was transferred to RWTH Aachen University in Germany.
Scholar life
In 1965, BJ. Habibie delivered his thesis in aerospace engineer. At the same time, he also developed his theory in thermoelasticity. Although he was offered many positions such as the head of train construction in The Netherlands, as well as positions within aviation companies like Boeing and Airbus, he declined the offers. Instead, he accepted one from  Messerschmitt-Bölkow-Blohm (MBB), an aviation company in Germany. There, he developed a theory on thermodynamics. With MBB, BJ. Habibie developed the Airbus A300B and through that accomplishment, he soon got promoted  as the vice president for the company.
As a scholar, BJ. Habibie earned an astounding 46 patents in the aeronautics field. His most famous theory is on the crack spot of an airplane  that granted him the name "Mr.Crack".  In 1992, BJ. Habibie was awarded the  Von Karman Award, which is one of the most prestigious awards in the aerospace industry.
Presidency
Habibie was the Minister of Research and Technology for 4 periods of Soeharto presidency In 1998, he became the country's vice president.Two months later after his promotion, Soeharto announced his resignation, and Habibie succeeded him as president. However, his career as a president didn't last long, as in 1999 he withdrew from his position.
Remarkable Love
Habibie is not only wellknown for being an aeronautic genius and a former president but also people reminiscence BJ. Habibie with his remarkable love story of his wife, Ainun. BJ. Habibie married Hasri Ainun Basri in 1962 until her death in 2010. This remarkable love story is written in a book named Habibie dan Ainun. This book recounts his marriage life and inspired many people in Indonesia.
Final years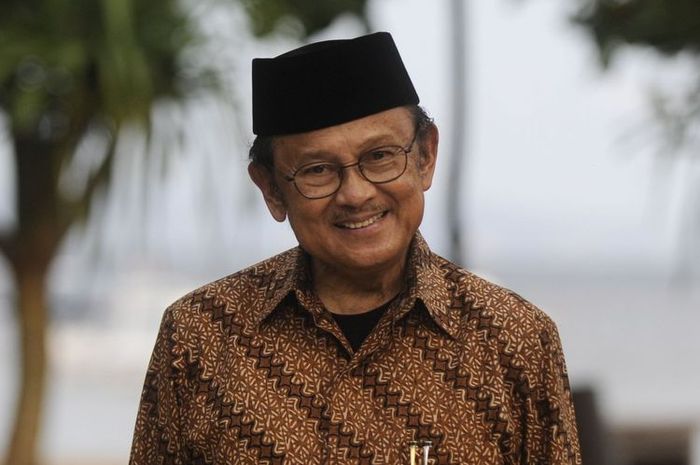 Habibie spent most of his senior years in Germany than in Indonesia, though he was the presidential advisor during Susilo's presidency. In early September 2019, he was admitted to Gatot Subroto Hospital, where he was undergoing treatment for heart problems. Finally on 11 September 2019, BJ. Habibie passed away due to heart failure.
Concept and written by : Rizky Anggara
Design by : Risky Ramanda